Despite a morning of car problems,
we made it to Sovereign Hill.
This place is AMAZING.
You have to visit if you get a chance.
I've wanted to visit Sovereign Hill for years.
Sovereign Hill is called an 'open air museum'
as it's set up to represent life in the 1850s during the Ballarat gold rush.
And it does an EXCELLENT job of it.
There is so much to see and do
so thank goodness for their two days tickets!
Oh and make sure you sit down with the daily schedule
and plan out what you want to see and do BEFORE you arrive.
There is so much on offer that it takes some thinking
to make sure you can make it fit comfortably into your two days.
And save some extra pennies for all the paid extras on offer at Sovereign Hill.
You won't regret it.
So what's there to do at Sovereign Hill?
Well…
there are buildings GALORE to visit
and in most of them there are costumed staff to engage with.
These dear ladies were baking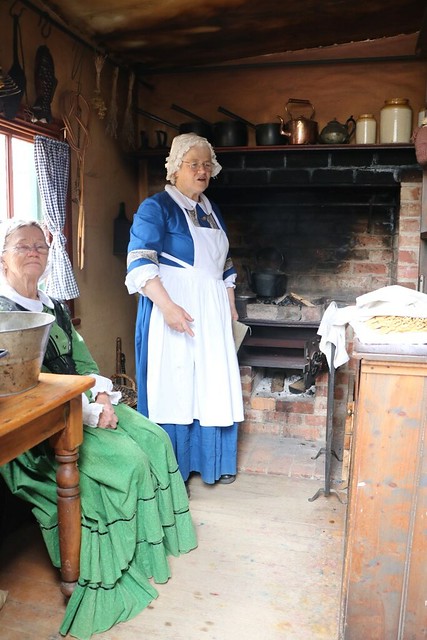 biscuits to hand out to the visitors.
The school wasn't functioning the day we visited
(it only functions on holidays and weekends)
but we could look inside.
We, of course, stepped into the library
and browsed the books on offer.
They weren't to my tastes,
except for these few.
There were also stores to browse and shop in.
The grocer's store was fascinating.
(Is that hideous creature in the window a lamb?
I may never eat lambie again if it is.)
And, yes, you could purchase some of the items in the stores.
Aren't these little drawers are gorgeous?
My favourite items were the books
but, surprisingly, I didn't purchase any.
At the drapery,
there were all manner of women's
and men's garments.
There stovepipe hats caught my eye
and reminded me of Abraham Lincoln.
(Just think, Abraham Lincoln was coming to prominence in the US
at the same time that Australia was having its gold rush period.
I love making these kinds of connections with history pieces.)
Our favourite shop, and everyone else's favourite shop too,
was the confectionery store.
Aren't the lollies in their jars pretty?!
Yes, they tasted as good as they looked.
We bought a mixed bag to nibble on.
There were other places to visit as well,
such as the funeral director's 'business' establishment,
the bowling saloon
(which was full of school kids
so we gave it a wide berth),
and the post office
(which is a functioning Australia Post store).
When you are sick of shopping
(as if that would ever happen when you have two teen sons and a hubby),
you can go and see some demonstrations.
Try to see them all.
Even the ones that you wouldn't think would be interesting,
were fascinating.
Like this wheelwright demonstration.
These videos show the hub of the wheel being made.
First, they have to turn the log segment into the right shape.
Then they have to drill the holes for the spokes.
Then the hub has to dry for years
before they can add the spokes!
I had no idea how much work went into making a wagon wheel.
We also enjoyed the candle making demonstration.
Here's part of the process…
Candles in the past were made of tallow, which is animal fat,
and smelled awful and burned with a very smokey flame.
Sounds lovely, doesn't it.
Our favourite demonstration was the candy-making demonstration.
The smell in this room was divine.
So imagine the sweet smells as you watch this video.
Apparently, this candy press would have been made of lead in the past!!
Yes, Sovereign Hills makes all of their own lollies.
To break these sheets of candy into individual pieces,
they simply drop them into a container.
Yep, high tech techniques used in the making of these lollies.
Oh and make sure you taste one of the warm raspberry drops from this demonstration
and then go and buy a whole bottle!
Trust me.
The red coats passed us in the street as well.
Probably after our bottle of raspberry drops!
The musket demonstration was also good.
(the firing was MUCH louder in real life!)
Make sure to stop and chat with the policeman.
He's a real larrikan.
Apparently the police weren't totally committed to upholding the law,
if 'not upholding the law' was more profitable to them.
Make sure to stop and talk to the staff and volunteers.
They have a lot of valuable, interesting information
to share with those who stop and ask
and show an interest in their passion.
Also, make time in your day to watch the various little performances
that pop up around the town.
They are quite funny.
This one played out on the gold fields.
A lady's dress was stolen and the police were on the hunt for the stolen goods.
(Sorry about the 'crack';
I know, now you aren't going to be able to 'not' see it.
Sorry again.)
Oh and there are also tours you can take while at Sovereign Hill.
I know.  The list of things to do is HUGE.
We took as many tours as we could.
This photo was taken while we were on the Goldfields tour.
How many people do you think would have lived in this humble abode?
Apparently, mum, dad and something between 12 and 15 kids!
Don't ask me where they all slept.
I can't imagine more than six or eight people sleeping in here.
You also HAVE to visit the underground mines
(unless you are claustrophobic or afraid of the dark!).
Pay the extra for the paid tours.
They are well worth it.
(We did two of the paid tours
and wish we did the third as well).
But, get there early to book your spot
or you might miss out.
And make sure to do the free Red Hill self-guided tour as well
(and don't be put off by the signs about lots of stairs;
there's hardly any and they are easily managed, even in my long skirt).
To get to the underground mines,
you travel down in this stylish tram.
(If my memory serves me well,
you go down about 20 metres underground).
Brayden LOVED these mine tours,
especially the mine tram.
I can imagine a lot of people wouldn't enjoy these trams.
For 90 seconds as you descend,
you are plunged into pitch black
to help your eyes adjust to the dark environment in the mines.
But, considering how the early miners
would have traveled up and down
(in the lifts, pictured below, with SEVEN other men!)
the mine tram was the deluxe way to travel.
Once in the mine,
your guide takes you through the tunnels,
stopping at key locations to tell you stories
and share information.
I was interested to discover that these wooden struts
aren't really for supporting the ceiling,
like they might appear.
They were used as an early warning system.
When the ceiling moved, perhaps threatening to fall,
the struts were designed to temporarily support the ceiling
while the poles flexed and bowed,
giving the miners warning and time to escape.
Now, for the highlight of any Sovereign Hill visit…
the goldfields and panning.
When you arrive,
make sure you ask for a demonstration on how to pan for gold.
There's a knack to it.
Then grab a shovel
and fill your pan with dirt,
preferably from the centre of the creek.
Every morning,
they sprinkle this water with gold
so you are searching for real gold
and you will find some,
if you put in the effort.
This was our first piece of gold
on our very first pan.
Brayden had a real knack for gold panning
and he experienced a little 'gold fever'
and had us returning to the goldfields repeatedly
over the two days we were there.
Here's some more gold he found.
Hubby was living in hope of striking it rich
to recoup the money we'd sunk into our sick car.
Suffice it to say,
based on what we found,
he wasn't able to quit his day job
OR pay off his car.
Look very very carefully and you can see our couple of teeny tiny gold specks.
Now, if you do want to see a LOT of gold,
make sure you go and see the gold pour demonstration.
How cool is this…
This gold ingot is worth $160 000AU
Even after all of that,
there is MORE to do.
You can explore and walk around the Chinese camp.
Make sure you visit the Chinese temple
and the Chinese camp store.
There were all sorts of interesting things sold there.
And peek inside each of the tents.
Each is different and unique.
My boys weren't all that keen on the Chinese way of carrying things.
Think of the muscles you would build, boys.
We had a blast at Sovereign Hill
and we'd happily return
and enjoy everything all over again,
especially if we lived closer.
But, we squeezed in as much as we could in two days
and enjoyed absolutely everything.
There's nothing negative at all to say about the place,
except perhaps that I wouldn't have enjoyed it quite so much
if we'd visited during the peak season.
(I highly recommend visiting OUTSIDE of holiday and weekend times.)
So, we said our farewells to Sovereign Hill and Ballarat
and prepared to hit the road again
the next morning.